After building a submarine, a liberty ship and a pirate ship, I decide to try my hand at Revell's 1:96 scale Constitution kit. I always thought about trying to build a wooden ship, but I decided to go with a plastic model due to my inexperience and total lack of rigging a ship. I started this build in mid-March of 2016. After opening the box, I sat down to read through the instructions and realized - holy cow, this is a good sized model! I also started to research online photos of the original ship and then started to take a look at some model builds of her. My wife bought me 'Anatomy of a Ship: USS Constitution' and our daughter bought me 'Rigging Period Ships' books as a helpful reference.
After washing the parts in mild soapy water and drying, I started in. I want to THANK the model sites and modelers for all of their skills and input for my project to help me along!
March 2016:
Cut and sanded any flash from two hull halves. Glued together using CA glue and clamped together. Ran a heavy bead of CA glue along the entire keel on inside of ship to strengthen the connection. Used gray primer inside and out on hull. Sprayed Flat White on inside hull and along gun ports. Taped lower part of ship and spayed upper portion with Gloss Black. Finally, after drying, I taped off upper portion of hull and spray painted lower hull with Copper.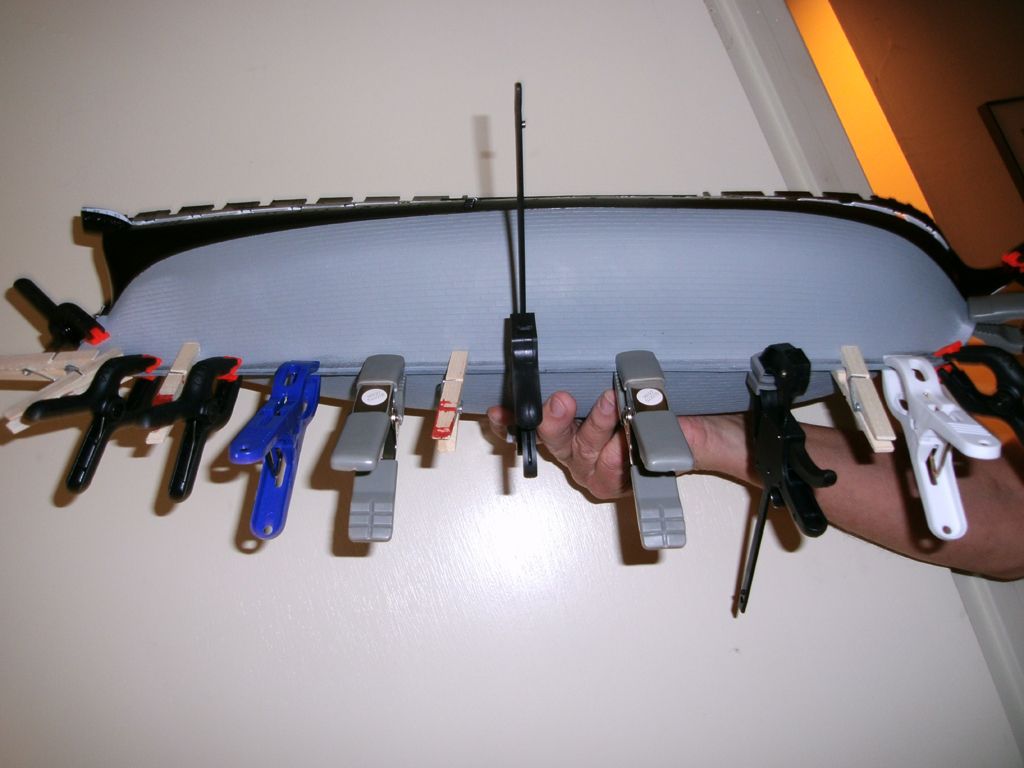 I had seen a base online that someone had and I went with that design. Purchased my base at Michael's Crafts and 1/4" and 1/2" square wood strips at Lowes. Sanded and stained base with Cabot's Autumn Glow and cut 1/4" into 4&1/4" lengths and stained with Testors CreateFX Flat Black wash. Cut 1/2" strip into two 20" lengths and stainded with the Cabot's. Drilled holes through base and hull of ship. Routed a path in base to conceal wiring for interior lights and covered with green felt. Used two bolts with washers and nuts to attach ship hull to base. A 3rd hull was drilled through the hull for my LED wiring and would then be hidden with the 1/2" runners on base. Lighting has a dimmer switch and will plug into wall. I also painted the bulwarks green by mixing Model Master Green Zinc Oxide with Dark Green and a little Testors Flat Green.